Sourdough
English Muffins, White
268 g
Level up your snacking game with Our Abbott's Bakery Sourdough English Muffins.
The perfect base for your home creations, these Sourdough muffins will turn your everyday mini pizza, eggs benedict, and simple breakfast into a thing of gourmet beauty.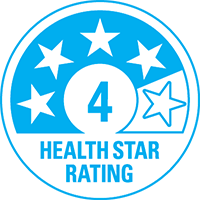 INGREDIENTS:
Wheat Flour, Water, Baker's Yeast, Mixed Grains (Kibbled Rye, Kibbled Wheat, Kibbled Triticale), Wheat Gluten, Maize Polenta, Rye Meal, Dried Wheat Sourdough Culture (1.5%), Vinegar, Canola Oil, Soy Flour, Iodised Salt, Emulsifiers (481, 472e, 471), Acidity Regulators (341, 263, 262), Preservatives (202, 200), Sugar, Vitamins (Thiamin, Folic Acid).